Your Hit Parade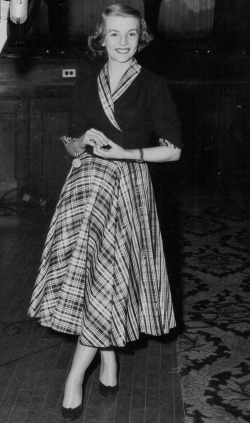 Dorothy c. 1952
In 1950, Lucky Strike was looking for a new type of advertising commercial. Raymond was commissioned to write a few jingles, and he had Dorothy sing them. The sponsor liked her voice and appearance and she was selected for four trial telecasts of
Your Hit Parade
. They were so impressed by her cheerfulness and enthusiasm, they signed her to do the commercials and to be a featured singer when the show began its official run in October. She was joined by Eileen Wilson and Snooky Lanson that first season, along with the "Hit Parade Singers and Dancers." Russell Arms joined in 1952 and Giselle Mackenzie in '53.
The TV version featured the top seven songs of the week and a few "Lucky Strike Extras," which were older, more popular songs. They attempted to dramatize the songs, with skits, beautiful sets and a multitude of performers. In later years, Dorothy always said that
Hit Parade
was the precursor to MTV and music videos. Check out the video below to see Dorothy sing a Lucky Strike Extra "This Can't Be Love."
During these successful
Hit Parade
years, Dorothy married Raymond in 1952. Their first daughter, Deborah was born in October of 1954.
" I remember when I was pregnant with Deborah, I was sick in the washroom just before the final Number One tune. I then had to come out and sing soulfully into the camera 'Once I Had A Secret Love'!"


In 1957, there were big changes about to happen at
Your Hit Parade
: rock n' roll was soaring and interest in
Hit Parade
was fading. They decided to hire a new cast.
Dorothy took this time to explore other entertainment avenues, and in the summer of '57 she played Dorothy Gale in The Municipal Opera Asscociation of St. Louis production of
The Wizard of OZ
. Reprising her role of the Wicked Witch, alongside Dorothy, was Margaret Hamilton.
Dorothy and Raymond's second daughter, Elizabeth, was born in June of 1958. Shortly thereafter, the producers of
Hit Parade
switched things up once again and brought back Dorothy to co-star with singer,
Johnny Desmond
. Despite these changes, the program was cosidered "out of touch" with the current music scene and the final airing was on April 24th, 1959.
"
I learned something from being fired. I tried to change my personality for a nightclub show and become a femme fatale. It didn't work. You can't change your personality, no matter how you try. And I'm not the sophisticated type. I'm just the girl next door, and when I'm 85, I'll be the old lady next door and still in character
."- Dorothy in a 1960s interview
---
Candid Camera and Hollywood
After Hit Parade, Dorothy joined

Candid Camera

as co-host with Allen Funt and Durwood Kirby from 1961-1963. She also performed in their skits as a variety of characters: a department store dummy, a young lady smoking a cigar (see video on right side of page.... peoples' reactions are priceless), and as the driver of the car with no engine, which is one of the best known skits of the show to this day.

"

Since I've been on 'Candid Camera' people say 'why I didn't know you sang, too.' This after eight years on 'Hit Parade'

."

In 1964, Dorothy and Raymond separated and were divorced in 1965. Dorothy moved with Deborah and Elizabeth from New York to Los Angeles, and she threw herself into her work, guest starring on many popular network tv programs such as

The Hollywood Palace, The Danny Kaye Show, The Perry Como Show, Bell Telephone Hour, Gary Moore Show, Password, Mike Douglas Show, Merv Griffin Show and many others.

Dorothy performed at various nightclubs around the country, including the Thunderbird in Las Vegas, the Coconut Grove in Los Angeles and the Copacabana in NYC. From the late 1950s on she was very active in musical theatre. Some of her favorite roles were Julie Jordan in "CAROUSEL,", Fiona in "BRIGADOON," Molly in "THE UNSINKABLE MOLLY BROWN," Eliza in "MY FAIR LADY," Maria in "THE SOUND OF MUSIC," Annie in "ANNIE GET YOUR GUN" and Leona in "DO I HEAR A WALTZ?".


It was in the last production mentioned that she met actor

Ron Holgate

. They were married in 1966 and their daughter, Melissa was born in October, 1967.

"Tweedlee Dee" by Dorothy Collins ca. 1954