Early Life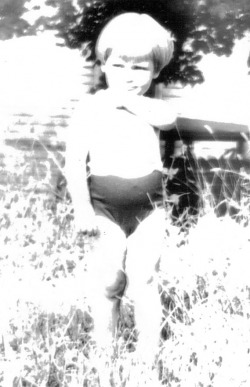 Margie, Age 3
Dorothy Collins was born Marjorie Helen Chandler on November 18, 1926 in Windsor, Ontario, Canada. She was the second child of Nellie, a homemaker, and Sidney, who worked at the Chrysler plant in neighboring Detroit. As a young girl, she dreamed of being a secretary, getting married and having six children.
That all changed when her parents entered her in a talent show,
Major Bowes Amateur Hour
in 1939. Marjorie came in first place, winning a wristwatch. Shortly thereafter, she met
Raymond Scott
, who was quite impressed with her singing. He saw such potential in this young singer that he worked out an arrangement with her parents for Margie to live with him and his family in New York, while he gave her vocal training. He had her practice a tiresome eight hours a day, until he felt she was a strong enough vocalist and peformer to sing with his Quintette. Of her training with Scott, Dorothy remembered:
"
Raymond would have me sing something like 'The Man I Love' and at the same time he'd sit at the piano and play all sorts of dissonant things. I learned to keep on pitch that way, no matter what
."
Scott also decided that "Marjorie Chandler" was not the right name for his young protege. Ironically, he chose to use Margie's sister's first name (which was quite upsetting to her sister) and thus, young Margie became Dorothy Collins.
---
Band Singer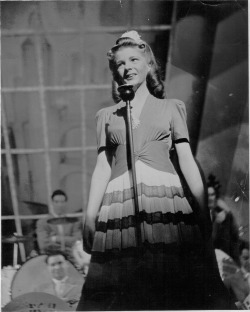 With the Raymond Scott Orchestra c. 1943
In 1942, Dorothy became a featured vocalist with The Raymond Scott Orchestra. She, along with her mother, would tour with the musicians, performing at various jazz venues around the country. She was just 16 years old. Dorothy recalled:
"I was never permitted to date, and when I began singing with the orchestra on tour, Mother and I were not allowed to sit next to the musicians on the bus. You see, Raymond didn't want my personality to change, and he was afraid the musicians' language might rub off on me."

In 1949, Raymond was hired as director of the orchestra for
Lucky Strike's Your Hit Parade
radio program on CBS, taking over after his brother,
Mark Warnow
, passed away. Dorothy was then trained by Raymond to lead the Quintette (which was really a sextet), on tour during his absence. She handled the introductions as well as singing. Speaking Raymond's lines, she actually did her first announcing.
---
"Puppy Love" by Dorothy Collins ca. 1952