Muscular Dystrophy Association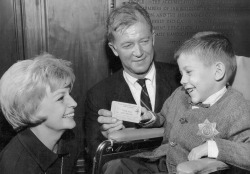 In 1955/56, Dorothy became involved with the
Muscular Dystrophy Association
(MDA), a cause she was deeply passionate about. She made appearances around the country as an MDA representative, attended annual meetings and performed on the National Telethon with Jerry Lewis as often as she could. She was on the Board of Directors from 1973-1982 and afterwards, a Vice-President.
---
"Over the past half century I've been privileged to know and work with the greats of show business. I've known them to have hearts as big as their talent, but none have had bigger hearts or talent than your Mom. The beauty of her voice and person was fully reflected in the beauty of her soul. She gave her all to help 'My Kids' and me. We'll never forget her." -Jerry Lewis, actor, comedian and MDA National Chairman
"The tremendous source of help and hope that the Muscular Dystrophy Association is today owes much to all your Mom gave to help build it. As a Board member from 1973 to 1982 her wisdom helped guide MDA through one of the most vital periods of its development, and her talent as an entertainer and effectiveness as a spokesperson drew the support of millions to the Association's cause.

I know all who served with her in the Association's leadership share my sentiments.

To MDA she was a godsend; to Bob Ross and me she was a dear friend and colleague we depended upon."- Gerald C. Weinberg, President & CEO, Muscular Dystrophy Association

To make a donation in Dorothy's memory, please click
here
.